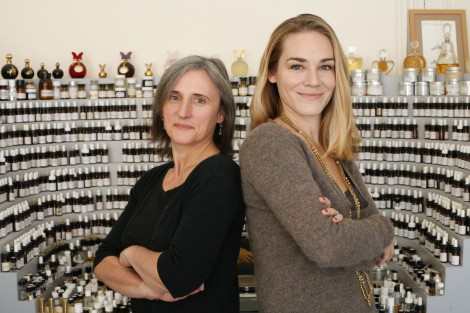 An interview rendezvous with Camille Goutal and Isabelle Doyen (English version)
Only two weeks ago "Le Mimosa", the new fragrance by Annick Goutal, has been launched in Germany. This was a really welcome occasion and opportunity for me to realize a long-cherished plan: to conduct an interview with Isabelle Doyen and Camille Goutal, who both are on the very top of my mile-long "interview wish list", at least since the launch of "Ninfeo mio". Isabelle Doyen, Annick Goutal´s longtime in-house perfumer, and Camille Goutal, the daughter of the legendary company founder deceased in 1999, are such a well attuned and seemingly inseparable team that it seemed to me almost impossible to have an interview only with one of these two highly creative minds. So I spontaneously decided to arrange a date with both ladies – and recently had the pleasure of having a great "interview rendezvous" with those two very winsome and cheerful icons of the modern, upscale perfumery world of France…
Essenza Nobile: Bonjour, Camille and Isabelle! Today we want to talk a little bit about your brand-new fragrance creation "Le Mimosa"! When and how did the idea for "Le Mimosa" come up?
Isabelle Doyen: Well, we began to work on it about 1 ½ years ago – but with Camille´s mother Annick, we thought about the Mimosa long long time ago, because we loved that flower. We had some ideas back then, but it was only the very beginning … and then, with Camille, 1 ½ years ago, we decided that we would work on it again to make it and to finish the idea of "Le Mimosa".
Essenza Nobile: In German, the name of the mimosa is also a symbol for sensitivity and fragility. What do you think is so unique and special about the mimosa, so that you have decided to dedicate an own perfume to that flower? Isabelle Doyen: We liked a lot the way it looks, it´s a little "Pompon", it´s very funny, very soft, it has the idea of tenderness, and has the idea of happiness… it comes out in the spring with the first sunny days, so for us it´s also a symbol of happiness… we liked this idea of happiness, the contrast of yellow colour and the blue sky behind…
Essenza Nobile: In the history of perfume, there have already been several fragrances that were focussed on and named after the mimosa – take, for example, fragrances such as "Mimosa" by Czech & Speakes, "Mimosa pour moi" by L'Artisan Parfumeur, Givenchy´s "Amarige Mimosa" or "Mimosaique" by Parfums de Nicolai. What does "Le Mimosa" make so special, how would you describe the fragrance from your very own personal view and perception?
Isabelle Doyen: Well, of the other mimosa fragrances you mentioned, I only know the "Mimosa pour moi", because I know the woman who made it; I did´n smell the fragrances of the others, so I don´t know how Givenchy´s  or Nicolai´s mimosa fragrance smells like. However, I must say that I know the real, traditional way of interpreting mimosa in perfumery, but we didn´t want it, because we regard it as a little bit old-fashioned … and a little bit too much powdery, but the kind of powdery that we don´t really like, so we decided to interprete the mimosa more with fruity and green notes. Well, it´s focussed on the fruity parts of the mimosa flower… if you smell it, it´s like a rainbow between green notes and fruity, melon, peach notes…
Essenza Nobile: Apart from "Le Mimosa" – do you have a favourite mimosa fragrance?
Isabelle Doyen: No, I don´t know any others… except the L´artisan Parfumeur´s  "Mimosa pour moi". Well, this is not the way I would interprete the mimosa, but I know the woman who made it so I like it because I like her work. But that´s all – I don´t know any others… well, except the bouquet of mimosa (laughs).
Essenza Nobile: Annick Goutal perfumes are well known for their "layering" abilities, which means that one can wear two of the fragrances on top of each other. Which of the previous Annick Goutal perfumes are especially suitable for "Le Mimosa", in your opinion?
Isabelle Doyen: Well, in fact probably "Eau de Charlotte"…
Essenza Nobile: … which contains also mimosa in the heart note…
Isabelle Doyen: … yes, right. And "Vanille Exquise"… I think it´s interesting to combine those two with "Le Mimosa".
Essenza Nobile: Camille, you originally worked in the field of photography, for magazines such as "Marie-Claire Maison", the "Vogue" or at Pret-à-Porter-shows in Paris. How much were you involved in the daily business at Annick Goutal´s and in the perfumery industry in general before the death of your mother, and how many new things and facts did you have to learn and discover then?
Camille Goutal: When my mother died, I just had my first daughter and at the same time I was working with photography. I inherited half of Aromatique Majeur, and Isabelle the other part of it. So we started working together, and at the same time I also started working at Annick Goutal as some kind of consultant, artistic director or whatever (laughs) and then, from year to year, I became more involved in the company of Annick Goutal and I also started to learn to compose fragrances with Isabelle. I never had the chance to work with my mother… of course I was always allowed to smell everything they were creating, because the laboratory was in our house, and when I was coming back from school, I could smell everything… but apart from that, I didn´t know how to create the formulas, so I had to learn everything from Isabelle.
Essenza Nobile: So Isabelle was your teacher?
Camille Goutal: Yes, she was my personal teacher! (laughs)
Essenza Nobile: Isabelle, in which way is your current collaboration with Camille different from your previous work for her mother Annick Goutal, with whom you worked together for more than 15 years?
Isabelle Doyen: Well, it´s the same kind of collaboration, because Camille has the same sense of perfection and… well, "exigence"… in French we call it "exigence" (English = "aspiration", the editor). And she also likes to laugh, and so on. It´s not so different … except she´s little more than 30 … so she just brings me a younger atmosphere (laughs). And we have both young girls… this may be the difference: she has a girl and I have one girl at the same age, so we have the same worries (laughs). All these things have an impact on the way we work and the way we see things.
Essenza Nobile: Camille Goutal und Isabelle Doyen – these two names are very often mentioned together, in one breath, they sometimes seem to be inextricably linked with each other. What is it that connects and unites you, what do you appreciate about each other, and how does your teamwork, your everyday collaboration and division of labour work?
Camille Goutal: When my mother was working with Isabelle, the brand was "Annick Goutal", it was her name, and I think it was logical that people only mentioned my mother. But when I started working with Isabelle, I was uncomfortable with the fact that she had created the fragrances, and people thought that I had created them. I didn´t like that, and I always wanted people to know that Isabelle had worked on the perfume with me or that she had worked completely by herself – or sometimes it was me. When we create fragrances, sometimes it´s only her, sometimes it´s only me and sometimes it´s Isabelle and me who have created the formula. When Isabelle is working on a formula, I smell all the scents – and vice versa. We help each other, in a way it´s working together on the same formula… hers and mine, it´s the same… we just have the right balance. So much for the work part. But as Isabelle has said before, we have a really good connection personally, due to the fact that, for example, we both have children, we like more or less the same music, cinema, theatre, whatever… We don´t like everything the same, we have of course personal preferences, but in general, we just like more or less the same things. We have the same points of interest in life. And, that´s what I think is the most important thing: we have the same vision of life. That´s important…
Essenza Nobile: …so you are friends?
Camille Goutal: Yes, of course! As well as Isabelle and my mother have been friends.
Essenza Nobile: Isabelle, it is said that you reflected on important topics of the perfumery industry already as a child – for example, it is said that you have contemplated especially on scents of roses and pears at the age of four. Is that right?
Isabelle Doyen: Yes! I had that big question in my mind about the smell of the rose, how it could smell like a pear and – on the other hand – the pear, how it could taste like a rose, and I didn´t have the answer when I was five. But now I have…
Essenza Nobile: When did you find the anwer?
Isabelle Doyen: When I began to visit the perfumery school, and I discovered that a part of the ingredients in the rose that I liked was in the pear that I liked, too. So I was very surprised and for me it was like I discovered a whole universe when I began to discover the answers of those mysteries… I was a little child when I was wondering about roses and pears in my grandmother´s garden, and maybe about 20 years later I got the answers, in that school.
Essenza Nobile: So, do you think that the first steps of your career as a perfumer already began at the age of four?
Isabelle Doyen: Well, in a way… yes! Because the smell, and the scents and the perfume was a big, big mystery for me. Like the perfume of the women – I was very wondering about this. What it was, how it could come on the skin, I didn´t know anything about this. And when I discovered that there´s a school where you can get these answers, it was clear that this is what I wanted to do. I wanted to have the anwers…
Essenza Nobile: At which age was it definitely clear for you that you would become a perfumer?
Isabelle Doyen: When I was 20 … when a friend of mine told me that this perfumery school exists, to learn how to make perfume, exactly then I told myself: okay, this is what I want to do.
Essenza Nobile: On each new fragrance that you release, there is always printed on the name of your mother, Annick Goutal. In which way is this an obligation for you to always bear in mind and ensure that everything you do, develop or produce is according to your mother´s concept?
Camille Goutal: That´s something I never ask myself… never! It would be horrible, if we had to ask ourselves everytime things like: would she have liked it? Isabelle always used to work for my mother and for the brand Annick Goutal, so she feels and knows what is suitable for the brand, it´s like an instinct – and so do I. So we don´t have to permanently ask ourselves these questions. I think it would feel like being a prisoner if we would do that, like a prisoner in a cage, or something like that…
Essenza Nobile: But still, do you have an idea what your mother would have thought about "Le Mimosa"?
Camille Goutal: (laughs) I don´t know… I can´t tell, I´m not her. I´m sure that she would have loved actually all the perfumes that we created with Isabelle. We work the same way as she did, we use the same kind of ingredients she loved… but we use them because we love them, too, and not to do as she did – that´s the difference, so we haven't tried to copy her. That doesn´t interests us at all. Life continues… I rather think, the fact that we also create with sensitivity, feelings, emotion – that makes the legacy of the brand.
Essenza Nobile: Do you perhaps have an idea, what kind of relationship your mother had especially towards the mimosa? I remember that the fragrance "Eau de Charlotte" released in 1982 contained mimosa in the heart note, for example…
Camille Goutal: I don´t know… she was fascinated by nature. She loved nature. Mimosa is a very interesting ingredient in perfumery, a very rich ingredient – I think it´s a fascinating one for perfumers in general, so I think my mother loved it, because of all the richness in the mimosa. And she loved the flower! I remember that we had a mimosa tree in our holiday house…
Essenza Nobile: The history of Annick Goutal´s firm began in 1981 with the opening of the first perfume boutique in the Rue de Bellechasse in Paris. So the brand Annick Goutal has been existing for 30 years this year, if I have calculated correctly?
Camille Goutal: Yes, that´s right.
Essenza Nobile: Will you celebrate this anniversary in any way, or can we perhaps even expect something like a birthday special?
Camille Goutal: (secretively) Aeehm… I think … yes… no, I do not think – I know! (laughs). We will launch a new fragrance in September, a feminine one, a very special perfume, and we´ll also have a limited edition of Eau d´Hadrien, this will also be something very special…
Essenza Nobile: But you can´t say anything more about it?
Camille Goutal: No… I can´t!
Essenza Nobile: It is secret?
Camille Goutal: Secret…! (laughs)
Essenza Nobile: Camille and Isabelle, it really was a great pleasure to meet you. So thank you very much for taking the time to answer my questions…
Camille Goutal: Merci, merci!
Essenza Nobile: Merci beaucoup and… au revoir!