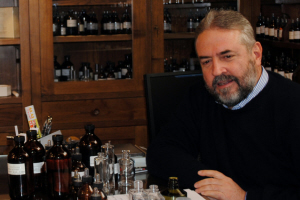 Philosopher of fragrances: Interview with Lorenzo Villoresi
What do the Queen, Madonna, Jacqueline Kennedy, Tony Blair, Sting and Billy Joel have in common? They all already had the pleasure of getting their noses pampered by a man named Lorenzo Villoresi. The perfumer from Italy's perfume capital Florence is not only highly esteemed among A-list celebrities, but his perfume compositions are also very popular at Essenza Nobile.
What is the secret behind the extraordinary success of this man who first studied philosophy and later found the role of his life as a master perfumer? In his interview with Edle Essenzen, Lorenzo Villoresi provides interesting insight into his legendary Florentine perfume atelier…
__________________________________________
Edle Essenzen: Signore Villoresi, you are very well-known for your tailor-made fragrances. Can you tell us how you proceed when creating a signature perfume? What information is important for you to choose the appropriate ingredients in order to create the perfect perfume for a person?
Lorenzo Villoresi: There is not a fixed procedure. I try to listen to the wishes and desires expressed by the customer and to "translate" them into fragrance compositions. We often talk about childhood memories because most of our preferences in fragrances are strictly related to odours or scents that belong to the first years of our lives.
The "fittings" are done during the session. It is a very interactive process. Whenever I add one ingredient to the blend I ask the customer if he/she likes the ingredient alone and the way it interacts with the blend. And of course they can try the blend on their skin in any moment.
At the end of the session I prepare the first bottle of the new fragrance and the customer brings it home with him/her.
Edle Essenzen: How would a fragrance smell that is tailor-made for… Lorenzo Villoresi, for example? Do you actually wear your own, self-composed signature perfume?
Lorenzo Villoresi: I normally wear my fragrance "Uomo" in perfume concentration. It is a classical men's fragrance with bergamot and citrus top notes, fresh spicy middle notes and bitter-woody base notes. But as I work with essences all day, I often end up "wearing" an involuntary mix of many different scents.

Edle Essenzen: Originally you studied Ancient Philosophy. How does a philosopher actually get into the perfume business? What was the "initial spark" for your decision to become a perfumer?
Lorenzo Villoresi: Since I was a boy I was fascinated by the scent of certain plants, like laurel leaves and poppies crushed with the hands. When I grew up, during the eigthies, I was often in North Africa, in Egypt in particular, where I went for the first time in 1981. But also in Marocco and in Sudan. There I discovered the world of perfumes, spices and essences and started to bring them back home for family and friends. Then I began to make experiments, preparing mixtures of essences, of herbs and spices, and also all of them together, collecting more and more essences and aromatics, incenses and plants from everywhere. This went on for nine or ten years,, learning more and more, making tries and experiments and trying to satisfy different requests of people. Finally at the end of 1989, I was contacted by the Fendi sisters, through a friend of a friend. They asked me to create a pot pourri, some room essences and scented candles for them . That is the way I started…… the hobby became a passion and later on a profession.
Edle Essenzen: Is your knowledge in philosophy useful for the creation of your perfumes? Are there parallels or links between these two seemingly different worlds?
Lorenzo Villoresi: Philosophers and perfumers have in common their quest for the "essence" of things: they have no fear of going deep into feelings, concepts and ideas in order to catch their true identity. Besides this, my other field of study on ancient cultures and religions is an important source of inspiration both for the composition and for the names of the fragrances. For example, "Dilmun" is the paradise of the ancient Mesopotamians, the place where the sun rises and where the Sumerian creation myth takes place. Or "Alamut" where Alamut is a mythical oriental fortress that encloses beautiful gardens of flowers and spices. Or the most recent "Iperborea" inspired by the legendary Hyperboreans, a mythical population that lived in a beautiful island beyond the north-winds enjoying a never ending youth and happiness.
Edle Essenzen: Thus far, you have been a "strictly independent" perfumer and created perfumes only under your own name. But in January 2013, your first fragrance was launched by Gucci. As far as I know, Gucci´s "Forever Now" is the first perfume created by you for one of the big fragrance houses. Is this a general change of direction – or was it rather an exceptional experiment, something like an excursion into new realms?
Lorenzo Villoresi: It was more of an excursion into new realms, to use your expression. Mrs. Frida Giannini, creative director of Gucci, wanted to realize a fragrance that spoke about the Gucci identity. This is made of tradition and modernity, craftsmanship and creativity and it is strongly linked to the city of Florence. The idea of asking me to create their new fragrance was related to all these affinities. It has been a challenging and exciting project and I am extremely happy with the result.

Edle Essenzen: Your laboratory is located in a venerable palazzo at Via de' Bardi, one of the most noble streets of Florence. Can you describe how your atelier smells? What kinds of scents in the air welcome your visitors when they come in?
Lorenzo Villoresi: It is a strange phenomenon: we use all sorts of aromatics from the daintiest flowers to the sweetest fruits to the sturdiest woody or animalic notes. The smell in the studio should be an unpleasant cacophony of dissonant scents. On the contrary it is quite pleasant and harmonious….. and although our studio is somewhat hard to find, people find us just following the fragrant track….!
Edle Essenzen: Florence has a long tradition in perfumery, linked with the Famiglia de' Medici and ancient pharmacies such as Farmacia di Santa Maria Novella or Farmacia SS. Annunziata. Nowadays, even one of the most important trade shows of the perfume industry, the "Pitti Fragranze", takes place in Florence every year. Florence seems to be the perfect "place to be" for a perfumer in Italy, isn´t it?
Lorenzo Villoresi: The name of Florence is associated with beauty, arts, tradition, renaissance, culture, refinement, beautiful countryside, good food and excellent wine. In a  word, to all that is pleasant and worth experimenting, including fragrances. Furthermore the tradition of the "Speziali" (pharmacists-alchemists-perfumers) dates back to the middle ages so it is no surprise that Florence has become a sort of capital city of Perfumery.
From my own point of view being in Florence has another advantage: in my collections I like to create special packaging options using sterling silver, crystal, alabaster and leather: in Florence we still have artisans that can work with these precious  materials and produce real masterpieces.
Edle Essenzen: Do you think that Florence is an especially inspiring place for creating fragrances?
Lorenzo Villoresi: Being exposed to such beauty every day and contemplating the harmony and the perfect proportion of Renaissance architecture from the windows of my studio has certainly trained me to seek beauty and harmony in all my creations, although my fragrances, their themes and inspirations, are not particularly linked to Florence. In any case, Florence of the 15th and 16th centuries was a very "international" and cosmopolitan place.
Edle Essenzen: Also in Florence, you founded an "academy of the art of perfume". For whom is it intended and what's it all about?
Lorenzo Villoresi: It will not be just a school. It is going to be a Centre devoted to the art of perfumery with many different activities, courses, seminars, workshops, special activities for children, an aromatic garden, a store, and a "museum of scents". A place where all people interested in the world of fragrances, be it for business or leisure, may find something interesting to learn or to discover.
Edle Essenzen: It is said that the former Prime Minister of Great Britain, Tony Blair, and his wife Cherie once picked out a gift for the British Queen at your atelier. May I ask what kind of gift they chose – and do you know if the Queen liked it? Did you receive any feedback from 10 Downing Street – or even from the Buckingham Palace? Or is that a state secret? (laughs)
Lorenzo Villoresi: They did buy a present for Her Majesty, namely a large travertine marble dish filled with our "Piper Nigrum" pot-pourri. Unfortunately we don't know if the Queen liked it…. The MI5 and Scotland Yard would not allow the world to know!
Edle Essenzen: Anyway, your atelier seems to be a real magnet for celebrities: Politicians, Arab princesses, actors, rock stars, film directors and authors have visited it yet. We even know some names, such as Jacqueline Kennedy, Sting or Linda Evangelista. Do you remember a remarkable anecdote about them (perhaps a little story never told before, exclusively for our readers)?
Lorenzo Villoresi: Unfortunately Mrs. Kennedy did not visit our atelier, but it is true that she regularly bought our fragrances at Fortnum & Mason in  London. Sting and his wife Trudy Styler came to buy a birthday present for Madonna. Also Ridley Scott and Thomas Harris came to see us.
There is a little anecdote I would like to share with your readers: a few years ago I was sitting in my studio with a Japanese customer. The door bell rang. My assistant opened to a nice couple with their daughter and accompanied them to our lounge to wait for me. The Japanese gentleman that was with me became very excited and said he had jus seen Billy Joel, his idol. I could not believe it and thought he had imagined to see the singer, but in that moment we heard that the man in the other room had started to play our piano, and he was Billy Joel indeed! (On a side note I must admit that the piano was quite off-tune and it was a bit embarrassing).
Edle Essenzen: "Mare nostrum" is the name of your latest perfume line focusing on Mediterranean themes. The first fragrance of the line is called "Aura Maris". May you finally tell us a bit more about the next masterstroke we can expect from Lorenzo Villoresi… or the current project you´re working on?
Lorenzo Villoresi: We are working at two different projects: one is a woody-oriental fragrance for the fall; the other one is the second fragrance of Mare Nostrum line. We cannot say much more about these because both fragrances are still in the process of being finalized and the names are still to be approved.
Lorenzo Villoresi Firenze Products To Buy In Our Online Shop! – Essenza Nobile®http://essenza-nobile.de/fragrances/Lorenzo-Villoresi-Firenze/Discover the whole Lorenzo Villoresi Collection now!