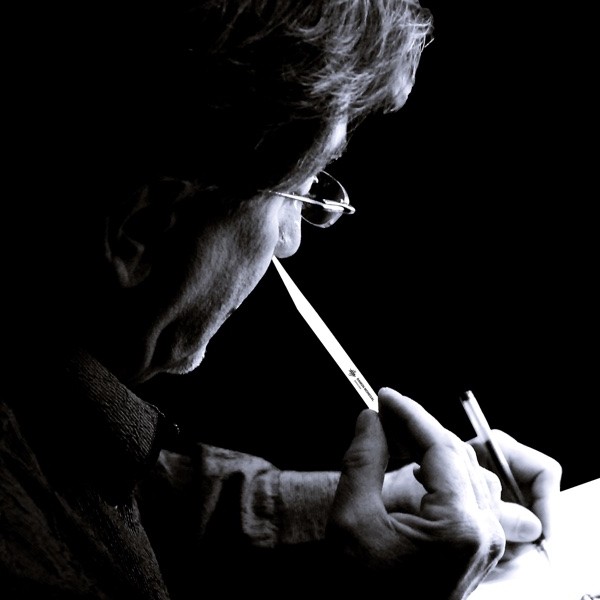 "I do all I can do in order to keep them in secret" – An Interview with Ramón Monegal
Last month we featured Ramón Monegal with our spotlight and wrote already an extensive article about his great work. While digging into his work history, we recognized how unique his story actually is and many questions arised. So we thought it would be worth a try to submit some questions to him – maybe we would be lucky and get some answers! And we are glad and grateful as Ramón Monegal took some time to answer our interview.
Finally, after a great month with Ramón Monegal in our Spotlight, we are able to take a deeper look behind the scenes and to learn him a bit better to know. We hope you enjoy this exclusive interview as much as we did.
Let's raise the curtain for Ramón Monegal!
Essenza Nobile: Señor Monegal, thank you for taking your  time for this interview. We are very happy about this opportunity.
Let's talk  about your glorious history in the world of perfumes. Your family has been the official purveyor for the Spanish Royal Family for four generations.
How did your family get into the "royal scene"? I think not everyone will be honoured like this!
Ramón Monegal: My family, particularly my grandfather, in Myurgia, was a supplier to the Royal house with Alfonso XII and Alfonso XIII and I maintain the honor of the title that was given to us.
Essenza Nobile: Are the fragrances for the Royal Family exclusive for them or did some of your royal compositions also find their way into your regular fragrance sortiment? And while we are talking about the Royals,  what kind of fragrance does the Spanish King and his Queen wear?
Ramón Monegal: I do never trade with my special or personal works and do all I can do in order to keep them in secret and not giving clues about my personal olfactory images.
Essenza Nobile: Let's focus on your work, Señor Monegal. From the fragrance itself to the very special bottle design – the final product leaves the impression that you are a passionate perfectionist when it comes to your work.  How is your usual development process for a fragrance? Where do you find  your inspiration?
Ramón Monegal: The inspiration comes from motivation. When a project produces an emotion that deserves to be remembered in smell, motivation and inspiration come together naturally and fluidly. The most important process is the intellectual. To define what you are looking for, to compose the script of values to communicate… I choose the ingredients depending on their values and finally, with those ingredients, I build one or more formulas. Then comes the technical process of evaluating and correcting as many times as necessary until achieve a satisfactory result.
Essenza Nobile: Your fragrances have oftenly astonishing effects. I am thinking of  Umbra, which reminds me of  a walk through the forest after a summer rain or  Cotton Musk, a fragrance that is almost as much "tangible" like smellable. I have heard that you have exclusive access to special fragrance ingredients, are they the key to this outstanding experiences we can have with your fragrances?
Ramón Monegal: The advantage of being an independent and long experienced artisanal perfumer with an extensive knowledge of the ingredients is that I can compose with carefully crafted essential oils, rectified pure concentrated essences in small quantities unsuitable for industrial quantities. This gives me a different and original language without the need to get to the bizarre or weird.
Essenza Nobile: Once I took a deep dive into your working history, Señor Monegal, I found out you learned with one the greatest Maitres of our time, Pierre Bourdon.  How was it to to work with him?
Ramón Monegal: I have met many teachers but Pierre is special, intelligent, imaginative, courageous, rigorous, open, knowledgeable ingredient, technical and above all with good sense of humor. It was a real pleasure!
Essenza Nobile: As we know, Pierre Bourdon has been featured in the Edition de Parfums Frederic Malle. Today, you are a Maitre yourself and have mastered this art with your unique work, and many people think it would fit in this collection as well. Would you contribute to the Edition, if  Monsieur Malle would ask you for a cooperation – and which kind of fragrance would you create within the endless possibilities he offers?
Ramón Monegal: I met Frederic in its beginnings through Pierre and then have met on several occasions. Within the independent field, Frederic is perhaps the most integrated and honest person I know because he defines himself as an editor, he doesn't take the roll of perfumer and has been able to create an Editor brand that allows to perfumers to sign their work. It has managed to carve out a superb reputation and therefore perfumers work with him and I would not be an exception.
Essenza Nobile: But not enough, you also took a study in communication and design at the Barcelona Design Center. I think we can see this skills in your bottle creation, it is well known as  "L'Encrier" – the ink bottle. The bakelit cap with its hinge construction is a class of its own in the world of perfumes.  How can we interpret this design, is there a communicational aspect in it?
Ramón Monegal: It is timeless, iconic, ambiguous, artistic and magical. And as in an inkwell, ink container that turns into poetry hands of its author, it may also contain different stories of smell.
As we knew that we have quite a few Ramón Monegal Fans within our customer base, we gave them the chance to give us some questions for Señor Monegal…
Essenza Nobile: We also wanted to give one of our customers the chance to ask you a question. Some of your fragrances are strictly limited to certain countries. I know about a customer who has to made stopover in  Dubai whilst a visit in the Middle East  to get "Dubai Next To Me".  Our customer who purchases your fragrances from us, has the following question:
"I am enjoying your creation and most of your fragrances. I want to ask you about MonBloom and Dubai Next To Me. Are they exclusive to the Bloomingdale's Dubai Mall for a limited time or unlimited?"
Ramón Monegal: Monbloom and Dubai Next To Me, are both of them part of my collection of special fragrances that I compose to fight somehow against globalization and giving some meaning to my local presence. I have no intention of opening their scope for which they were created.
Essenza Nobile: "Entre Naranjos is one of my favorites from Monegal,  but the performance of the fragrance is not so strong, I wish it would last more. Will there be a more concentrated version of it in the future? Do you plan an extrait version of it?"
Ramón Monegal: A vital olfactory image around ingredients of Orange tree is never strong enough for its freshness and volatility. Aware of this I have given it the strength of wood to make the image more aware and if I get the necessary ingredients to make a extract as before, maybe then I will raise to convert it into a true extract.
Essenza Nobile: The names of your perfumes are often very descriptive. There is one that is a bit mysterious. "Kiss My Name" – would you let us know what the thoughts behind the name-giving has been?
 Ramón Monegal: The timeless chord Abs Tuberose, Abs Jasmine and Abs fleur d'Oranger is perhaps the ultimate classic and the richest and attractive one in floral chords. It was the very first chord that my teacher A.J. Pey gave me to work on, when I was young but the result was not very good for his opinion 😉
In fact, Kiss my Name is like a little revenge to that trance and also a tribute to this chord reworked now, with the experience gained over the years on the craft.
Essenza Nobile:  Gracias, Señor Monegal – it was a pleasure to talk to  you!